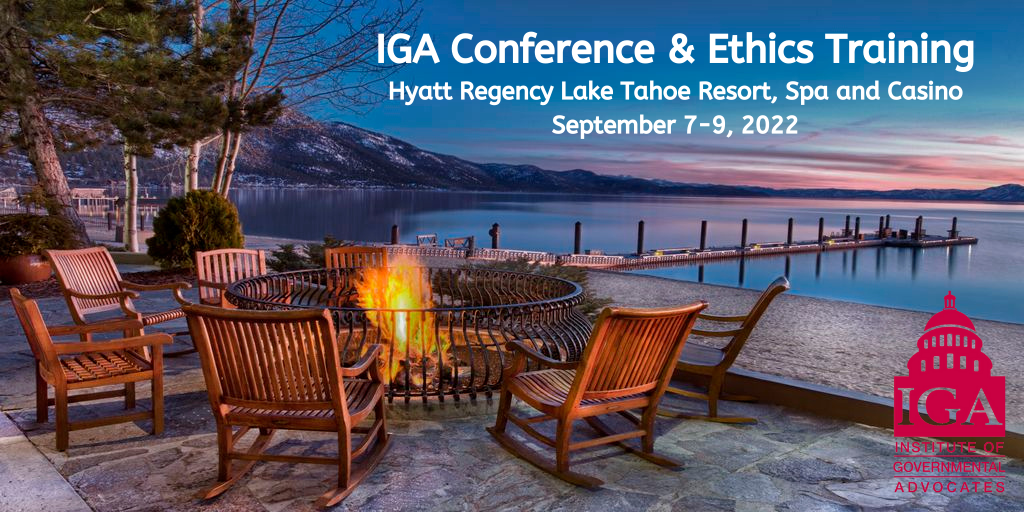 How to Register:
1. Review, fill out and return the IGA Conference & Ethics Training Brochure/Registration Form to InstGovAdvocates@gmail.com.
2. Pay for your Conference Registration by credit card using the links below or if paying by check, (see details within brochure here).
3. In order to get your credit for attending the Ethics Training, fill out this form, email a copy to Stacey.Medlock@sen.ca.gov and send with a $50 check to the address listed on the form. *Ethics Training will be presented via Zoom to attendees.
4. Book your room at Hyatt Lake Tahoe and get the IGA group rate, by clicking here. Group rate expires August 15, 2022.
Pay for Conference Registration by Credit Card Here:
Member- Full Registration
Member- Single Day Registration
Non-Member- Full Registration
Non-Member- Single Day Registration
Spouse/Guest Registration
Golf Outing Registration *Pay via this link and email InstGovAdvocates@gmail.com for details on outing
*If your firm would like to register more than one person within a single transaction, contact Danielle McKee at InstGovAdvocates@gmail.com for a custom invoice.
Sponsorship Opportunities:
To sign up for a sponsorship, review, fill out and return the Sponsorship Brochure to InstGovAdvocates@gmail.com and pay via the links below.
IGA Conference & Ethics Training Sponsorship – $1000
IGA Conference & Ethics Training Sponsorship – $500